Why personalization?
Every single person is unique; including you. And with your busy life and unique goals, a custom vitamin not only streamlines your supplement routine, but helps you to see results.
The symptoms you spend hours researching may seem similar to that of the next person, but what's underneath the surface can look vastly different. Google doesn't know your lifestyle, health history, test results or genetic makeup (it actually might, but it's certainly not using it to make a custom vitamin for you)—all these play a massive role in getting to the root cause and helping you to supplement safely and effectively for your needs.
Take for example fatigue, you can start taking B12 because you heard it's good for energy, but what if the reason your fatigue is manifesting is due to hormonal imbalance, adrenal fatigue, stress, or even gut issues and what you really need is something completely different to support your body systems.
By choosing VitaminLab, you can create your own supplement, that doesn't just bandaid your symptoms, but helps support your body systems so they can support you. Custom vitamins factor in your lifestyle, health history and goals.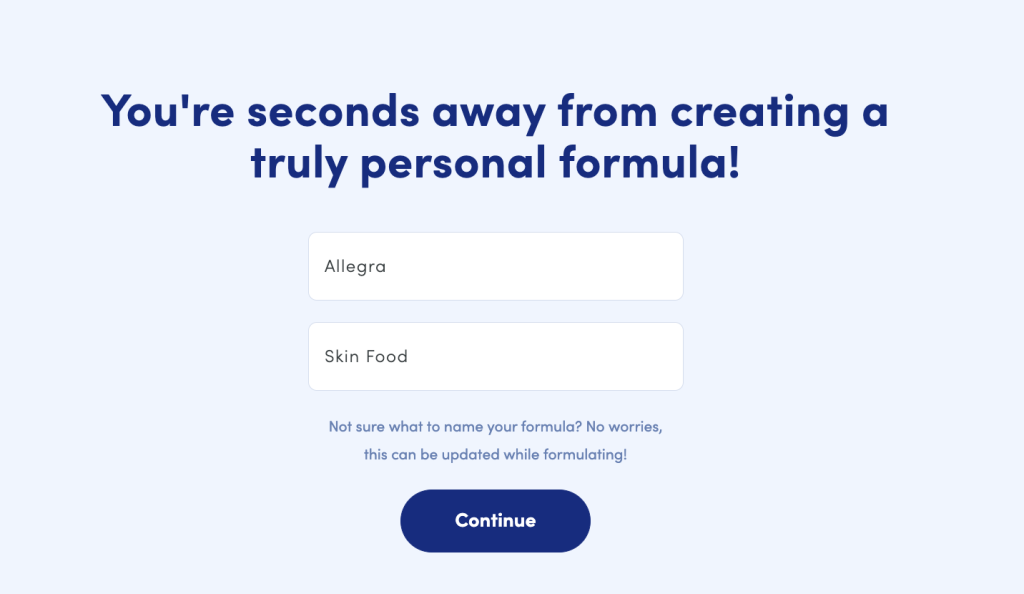 How to make a custom vitamin using VitaminLab
Take the quiz: This is a great route if you're not sure where to start. We'll ask you a couple questions about your health history and goals and generate a formula based on this data. From there, you can order the formula as is or modify it directly in your customer portal before you order.
Build your own formula: Have an exact formula in mind and want to build your own vitamin? Choose from a wide range of ingredients at the dose recommended for you.
Work with a health professional: Book a free consultation with one of our in-house nutritionists who can help you build a personalized formula or work with your practitioner to create an even more targeted formula through our practitioner portal.
How to formulate using the quiz
Our comprehensive health assessment was designed by our team of pharmacists and nutritionists—it takes into account your lifestyle, diet, and goals. If there's a goal missing and you're unsure of what you need, you can always book in with one of our in-house nutritionists for a complimentary consult. After completing your quiz, be sure to create an account so you can save all your hard work.
Create your own supplement
Already have something in mind? Do your stuff! Choose your ingredients and customize your dose. Have a favorite formula, but wish it was just slightly different? Go ahead, and use that as your inspo for your new custom formula. We've also got a ton of helpful tips over on our blog.
Creating your own formula from scratch can sometimes feel a little intimidating, especially if you're new to personalized supplements—that's why we've added the option to select your health goals. Add the goals you'd like to focus on and we'll recommend ingredients and dosages based on those goals. The General Health goal is also a great multivitamin base you can modify to create a custom multi that meets your unique needs.. Looking for extra support? Our in-house nutritionists are beside you every step of the way. We offer complimentary consultations and work with you to make sure you're getting everything you need out of your custom vitamin routine.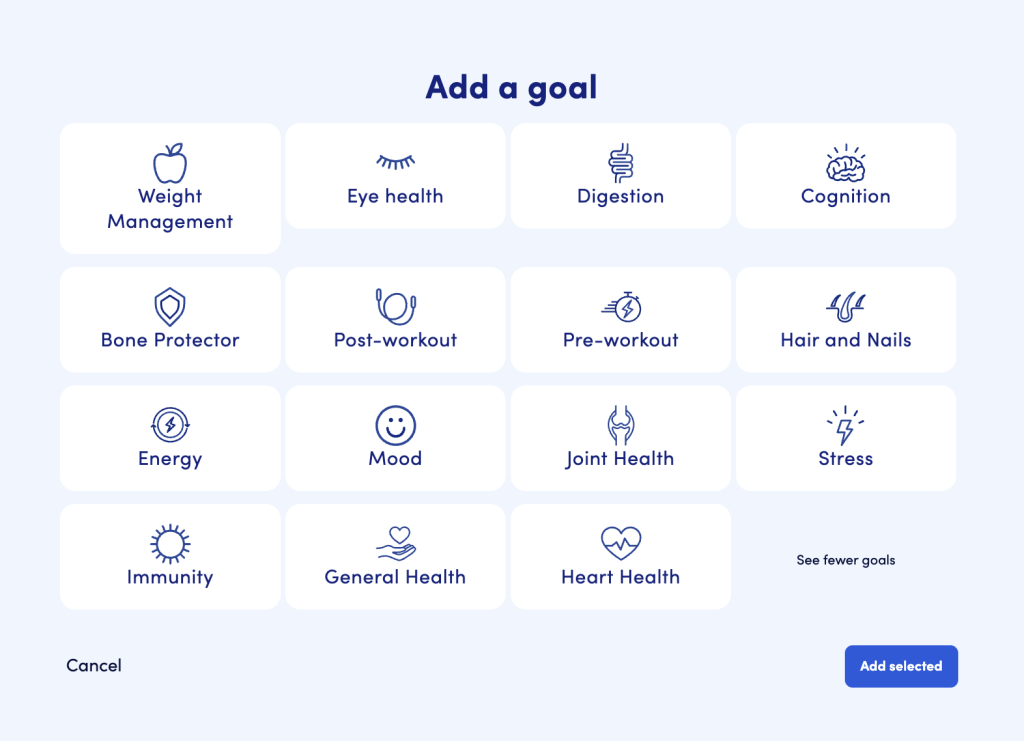 Our top tips to help you build your custom vitamin
Use the goals to help you formulate
Choose your health goals to create the basis for your formula. Once selected, you'll see your recommended ingredients based on these goals. From there you can adjust, build on, or remove any ingredients. For example, if you'd like to focus on Stress, Joint Health, and Digestion, we'll generate you a formula with ingredients such as ashwagandha, vitamin D, and probiotics and you can adjust from there if needed.
Choose between powder or capsules
Take note of what's in your formula and use our handy chart to help decide if you'd like your formula delivered as capsules or a powder. Some ingredients have stronger flavors than others and are more palatable in capsule form. If you know you'd like to add your formula to a smoothie or juice and none of your ingredients have a strong flavor, go ahead and select the powder option. Alternatively, if you are used to taking capsules as part of your routine, select this option instead.
Your custom vitamin is made to evolve with you
Entering a new life stage, want to change up your health goals or target a new health concern? Your custom vitamin can be modified every three months, 14 days prior to your refill date. We recommend chatting with our team of registered nutritionists who can help guide you through this process and make recommendations based on your specific needs.
We're here for you! At any moment in your journey, you can book a free consult with one of our registered nutritionists. They'll provide you with any support you need and help keep you on track. Your health goals are our health goals!
Keep your formula fresh and Mother Nature safe
We recently upgraded our packaging to sustainably-sourced sugarcane that closely mimics traditional plastic, which keeps your formula dry and fresh. Our pouches are fully resealable—be sure to close tightly, and store in a cool, dark place. Another perk of going custom? It helps to protect Mother Nature. Your custom supplement is shipped in a 90-day supply, and all of our packaging can be recycled.
You've received your custom vitamin, now it's time to build routine!
Take your custom vitamin with food. This is a little easier on the stomach but also ensures that fat-soluble vitamins are better absorbed.
If you have higher doses/higher capsule count, you can feel free to space out your custom vitamin (for example, if your daily dose is 5 capsules and you find it tricky to get them all down in the morning, you can do 3 at breakfast and 2 at lunch).
If you're new to vitamins and need to start incorporating it into your routine we always suggest habit stacking. Can't rise without coffee? Try placing your custom vitamin next to your french press. Plan on using the powder version with a smoothie? Leave your vitamins by the blender!
Enjoy the benefits, but keep in mind that your custom vitamin can take up to three months to start working at a cellular level.
The statements in this email have not been evaluated by the Food and Drug Administration. This product is not intended to diagnose, treat, cure, or prevent any disease.